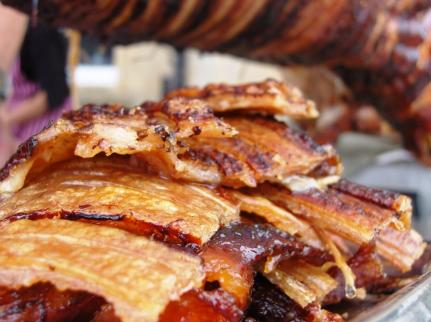 We have catered for parties of 50 - 500 and we've done all manner of occasions and themes amongst the hundreds of Hog Roasts that we have served over the years. As a basic guide to pricing, to feed 80 people (on a weekend in May-September) within 30 miles of EX7 0NX is £595 no VAT. This includes:
Our own pedigree Berkshire pig roasted to perfection to produce mouthwatering crackling

A carver and a server
A mixture of locally made white, wholemeal and harvester baps
Apple sauce and sage & onion stuffing
All our own rubbish taken away and the area left clean and tidy.
Smaller numbers can be catered for however it does become quite expensive per person. This can be overcome by providing an oven roasted joint instead of a whole hog.
Read the testimonials left by some of our many happy customers.
Contact us for a detailed personalised quote and prices for salads and desserts, or read some FAQ's below.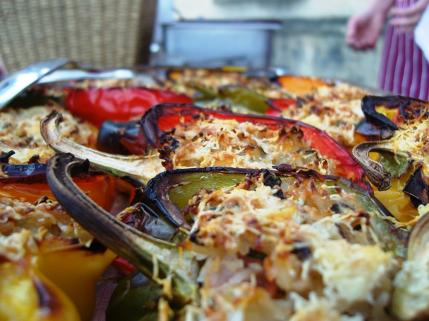 Private parties and corporate events catered for
A roasting hog and the irresistible smell of it cooking makes a fabulous focal point for your party and we can cater for any function, be it a wedding, birthday, anniversary or corporate event. We will work very hard to make your day exceed all expectations.
As a small family business we can promise you a personal service. We are very flexible and can provide everything you need such as bread rolls, stuffing, apple sauce, vegetarian option and a selection of salads and desserts. Or if you prefer we can just roast the hog and you do the rest.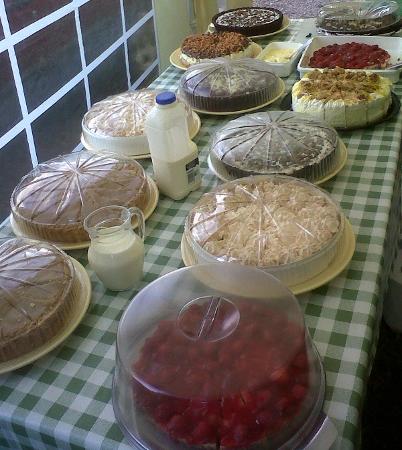 I've had another quote which is much cheaper?
Firstly, compare the level of service for the different quotes. Some providers only send one person to carve and serve their hog roast, or it may be self service. Vat is not applicable to our service, but may be added by other caterers. We only use our own pedigree free range Berkshire pigs, specially produced for our Hog Roasts, and local bakery baps baked freshly on the day. We offer an excellent product and service. While we may not be the cheapest caterer or the most expensive, we believe we offer the best value for money. If you're considering spending hundreds of pounds to treat your guests, isn't it worth spending a little extra to make sure that it is truly memorable? Most guests are impressed by any Hog Roast, but we have had so many comments over the years that ours is the best ever. You only have to look at photos of our Hog Roast to see the golden crispy crackling. Our machines look the part too, gleaming stainless steel with a glass window to see the roasting hog.
How can I be sure of safe food and a safe event?
Our machines conform to CE standards and are regularly checked for gas safety. Staff are trained in Food Safety and Hygiene and at least one attending your event will have gained a Level 2 certificate in Food Safety. Our ovens are fitted with thermometers to monitor cooking temperature and we use digital meat probes to determine that the roast is fully cooked and ready to serve.
I'm not sure yet how many guests will be coming.
Final numbers for your event would not need to be confirmed until a couple of weeks before your date. The final price may change accordingly if numbers are significantly different from your quotation.
How long does it take to cook and how does this work on the day?
It takes between 7 – 10 hours to roast, depending on the size of the pig. For most occasions, we start cooking the pig at our farm then arrive at your venue at a convenient time to set up and finish cooking. This doesn't affect either the quality of the pork, or compromise food safety.
Our Hog Roast is best served straight from carving and we aim to serve all guests within 30 – 40 minutes. We then continue to carve and serve guests until everyone is fully fed! We can then leave you with any carved meat left over.
What do you need at the venue for the Hog Roast?
Ideally a relatively level outdoor site at least 2.4m square which is close to where most guests will be at your event. Use of a standard 13 amp socket is handy, although we can operate without a mains power supply. Access is our main concern. While our roasting machines are readily portable and fit through a standard doorway, steps and sharp turns in a confined space may cause a problem. We always visit the venue to check access, and have gone to the extremes of dismantling the machine or using ladders and lifting gear to gain access.
I'm worried about grease and fat getting on my patio.
Our machines are sealed to contain liquid fat, so there is a very low risk of spillage. Sometimes carved meat may be dropped by carver or server, but we always clear the area before we leave and take any rubbish away with us. We can also bring a floor covering to work on if required.
What happens if I have to cancel my event?
We do have a cancellation policy, but in reality we have only ever had one booking cancelled in the last five years. The more notice of cancellation before an event allows more opportunity to fully refund your deposit. At worse, for a cancellation within 10 days of a booking, a charge of 50% of the booked price would apply which can be redeemed at any time against any of our products or services.