Registered with Teignbridge as a Home Boarding facility, we offer a home from home service to care for your dog while you're away, even just for a few hours during the day. Dogs stay in our farmhouse and have the run of a large fenced garden around the house for all day play, as well as walks around the farm a couple of times a day. For your peace of mind, we can also keep in touch with you while you're away from your dog by text or social media.
In accordance with our Teignbridge License, dogs must be up to date with worming and flea/tick treatments and vaccinations against:
Viral hepatitis
Leptospirosis
Distemper
Parvovirus
Viral kennel cough
We are not able to take entire male dogs or bitches that are in season or could be in season during their stay.
Prior to your dog's first stay we would arrange a short introductory visit for you and your dog to establish that you are satisfied with and your dog is suited to our facilities and arrangements. We would then need a copy of your dog's vaccination and veterinary treatment record and your completion of a simple form of contact details etc. Then all you need to do is give us the dates and approximate drop off and pick up times for your dog's stay.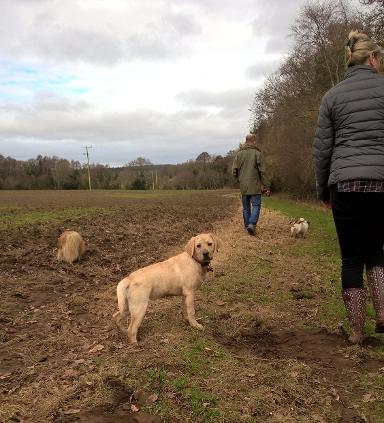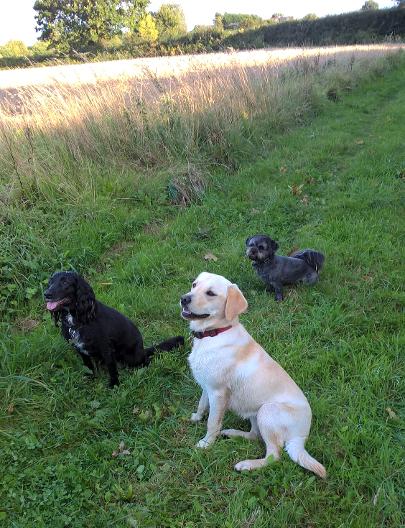 What does your dog need to pack in their travel bag?
ESSENTIAL
Enough food for their stay along with a note of amounts and times of feed
Any current medication or treatments with notes
Updated veterinary record card if applicable
OPTIONAL
Food bowl
Soft bed or blanket
Dog lead
Our current rates are from£15 for 24 hours/per night or £11 for day stays only. Collection and return to home may be possible by arrangement. Please ask for prices.
REGISTRATION DETAILS
Licensing Authority - Teignbridge District Council - Environmental Health
01626 361101; info@teignbridge.gov.uk
Licence Number: 19/01645
Licence Holder: Rosalyn Partridge