100% traceability guaranteed. Know the source, buy local.
You can buy our fresh pork by visiting us at Duckaller Farm, or contact us to place an order. Price list and delivery details at the bottom of the page.
You'll really taste the difference.
Nothing compares to the taste of succulent mouth-watering pork and particularly the pork from our own Berkshire pigs, a traditional breed that produces wonderfully flavoured pork with amazingly delicious crackling.
To make award winning sausages you have to start with the best pork. As the saying goes 'you can't make a silk purse out of a sow's ear'.
We only use our own pigs for our sausages and fresh meat. We aim to sell all our produce within 20 miles radius so our meat is truly local. The proof is in the eating so why not try our delicious pork for yourselves.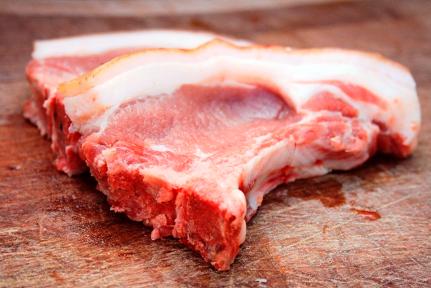 All our pork is butchered and prepared on our own farm, from our own animals so you can be sure that the meat used is of the best quality, and produced to our very high standards.
Sausages and Burgers
Disregard the myth that sausages contain all the bits that aren't fit for anything else. Primarily sausage making utilises all the offcuts of fresh pork left over after preparing the other cuts of pork, normally referred to as 'trim'. Nowadays, because we eat so many sausages in comparison to joints of pork it's common for all the prime cuts of pork to be used in sausage making.
Our sausage meat is made using coarse mincing plates to give a firm meaty texture and filled by machine into casings and then hand-linked and hung to form and dry out.
All the meat that goes into our sausages and burgers is the same that we use in our fabulous Hog Roasts. Sausage flavours include:
Berkshire Gold-used for Breakfast in the Barn

Honey roast

Pork and garlic

Classic Cumberland

Chilli and Coriander

Other speciality flavours during the BBQ season

Gluten free sausages can be made on request
Chops, Steaks and other cuts
A range of steaks and chops provide quick and simple meals; baked, grilled or barbecued, real flavour is assured! Alternatively, why not try tenderloin? This extra tender and lean cut can be cooked in numerous ways.
Diced, Minced and other items
For further menu options, diced or minced pork are great for casseroles or pies. We can also offer something a little different, such as trotters or perhaps liver, delicious simply fried with onions.
Awards
Second Prize Devon County Show 2011 - Spring Sausage Competition
Reserve Champion Devon County Show 2012 - Spring Sausage Competition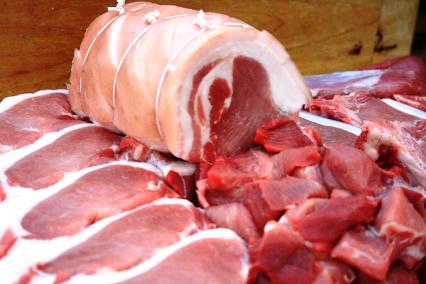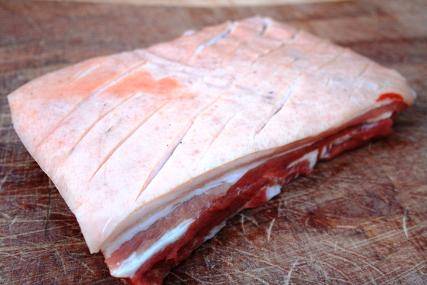 Roasting Joints
What a treat - a flavoursome, succulent joint of pork served with delicious, crispy crackling! The versatility of pork means that the remainder of the joint can be used in numerous recipes on subsequent days. Various joints are available including shoulder, leg, loin and belly either boned or on the bone. Joints are left with the rind on and scored, but they can be prepared to your suit your preference.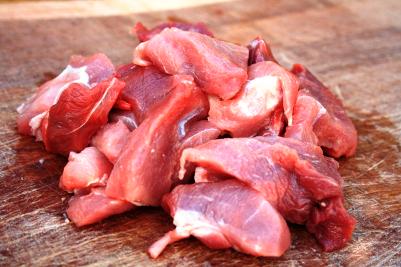 Dry Cured Products
We cure our own pork using a dry curing method which means that we take water out rather than add it, as in wet curing. As a result, there is less shrinkage when cooking and there is no white residue when frying or grilling our bacon or gammon steaks.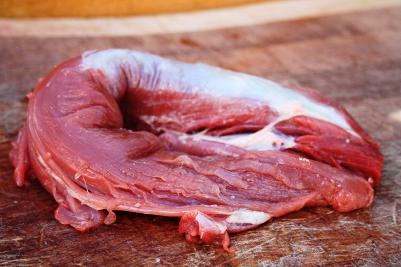 Champion Devon County Show 2013 - Spring Sausage Competition
Taste of the West Silver 2012
Contact us to place an order
We take our pigs to the abattoir on Mondays and collect them on Wednesdays. Even though we keep a quantity of fresh meat in stock, if you're placing a large order or a half or whole pig, to ensure that we can accommodate this we'd appreciate if you could order by the Sunday night before you need it delivered. We aim to place all of our produce within 20 miles of our farm but are pleased to provide for customers further afield. Please allow 3 days for delivery although we will often get your order to you within that time scale. If your order is urgent, please tell us when you place it and we will contact you to confirm your delivery time.
Our order and delivery guidelines are:
Collection
Minimum order value for collection - £5. Collection can be from the farm or at one of the local produce markets we attend. Please be aware that markets are subject to cancellation beyond our control so alternative arrangements for collection may be necessary.
Great Hall Piazza, University of Exeter, fist Friday monthly 11am-3pm (term times only)
Delivery
Minimum order value for any delivery - £15
Free delivery within 10 miles of our farm Dawlish, Teignmouth, Starcross, Exminster, Shaldon. Bishopsteignton, Newton Abbot, Chudleigh, Kingsteignton, Coombeinteignhead, Stokeinteignhead.
Local delivery applies to customers outside the free delivery area but within 25 miles of our farm. Delivery is free for orders above £30, but cost £5 per order below £30.
Parcel delivery is available at a cost of £10 for all orders up tp £75. Parcel delivery is free for orders greater than £75. Using insulated packaging, orders will be sent by courier late pm and will be delivered by midday.